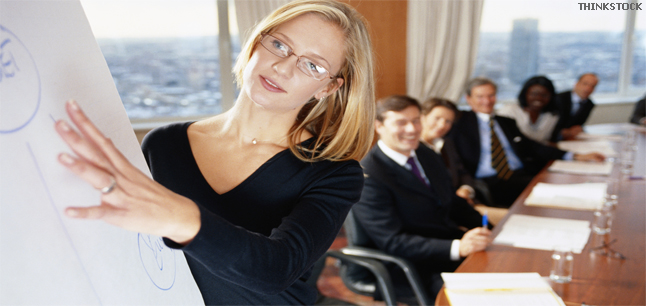 Why study Business Management?
We all rely on businesses to create wealth, prosperity, jobs and choices. Studying Business Management gives you the opportunity to develop important skills such as problem solving, communication, planning and organising. You will learn through real-life business contexts how organisations operate.
These skills are valuable in a wide range of career sectors but are particularly useful if you are interested in entering the world of business — whether as a manager, employee or self-employed person.
What do I need to get in?
This is at the discretion of the school/college but you would normally be expected to have attained one of the following:
What will I study?
The course comprises three compulsory units and an assessment.
The External Business Environment (8 SCQF credit points)
In this unit you will:
develop a detailed knowledge and in-depth understanding of the effects of external influences on organisations operating at a multinational and global level
investigate how an organisation is affected by external factors and to gain an in-depth understanding of the responsibilities of managers in an economic, social and environmental context
analyse and evaluate the impact of such external factors and consider the effectiveness of various courses of action.
The Internal Business Environment (8 SCQF credit points)
In this unit you will:
gain a thorough grounding in the discipline that forms the basis of management practice
carry out activities that will expand their knowledge of both traditional and contemporary management theories used by organisations to maximise their efficiency
analyse and evaluate theories relating to internal factors that influence the success of teams.
Evaluating Business Information (8 SCQF credit points)
In this unit you will:
develop skills in evaluating a range of business information used by organisations to reach conclusions
learn to confidently analyse and evaluate business information, based on a research project carried out on a topic from the course.
How will I be assessed?
Course assessment (8 SCQF credit points)
The course assessment has two components with a total of 120 marks:
Component 1 - Question paper (80 marks)
Component 2 - Project (40 marks).
For Component 2, you will research, analyse and evaluate business information gathered in order to produce a business report.
The question papers will be set and marked by SQA.
Your work will be assessed by your teacher on an ongoing basis throughout the course. You must pass both units and the course assessment to gain the course qualification.
The course assessment is graded A-D. Your grade will depend on the total mark for all the units in your course.
What can I go on to next?
Further study, training or employment in: