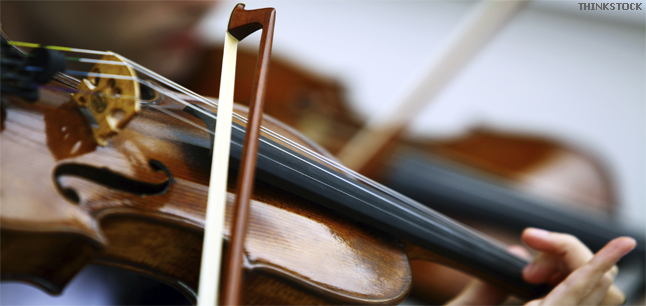 Why study Music?
Music gives you the opportunity to use your imagination and express yourself in a creative and practical way. It helps you to develop important skills such as: playing a musical instrument, communication, creative thinking, using your voice, composing and arranging music. You can develop and consolidate your skills in performing and creating music, and develop your creativity and confidence as you explore and develop your own creative ideas and music.
The skills you learn on this course not only makes a valuable contribution to your general education and personal development but also allows you to develop the skills and knowledge required to proceed to further study and/or follow a career in music.
What do I need to get in?
This is at the discretion of the school/college but you would normally be expected to have attained:
What will I study?
The course consists of three compulsory units and the course assessment unit.
Music: Performing Skills (8 SCQF credit points)
In this unit you will:
develop a range of advanced performing skills appropriate to their two selected instruments, or to your one selected instrument and voice
through regular practice and reflection, you will develop and creatively refine your performing skills while exploring a variety of musically and technically challenging music.
Music: Composing Skills (8 SCQF credit points)
In this unit you will:
develop a range of advanced skills in creating music
experiment with and apply a range of compositional techniques and devices in refined and sophisticated ways when creating your own original music, drawing on your understanding of composers' work and approaches and the creative process.  
Music: Understanding and Analysing Music (8 SCQF credit points)
In this unit you will:
through listening, develop your understanding of music styles, music concepts and musical literacy
work independently, demonstrating aural skills and an in-depth understanding of music and music concepts when investigating, analysing and commenting on sections of musical movements or works.  
How will I be assessed?
Course Assessment (8 SCQF credit points)
The course assessment has two components worth 100 marks:
Component 1 – performance or a portfolio (worth 60 marks)
Component 2 – question paper (worth 40 marks).
Component 1 – You will either perform a programme of music or produce a portfolio of music.
The performance option can be on either two selected instruments, or a selected instrument and voice. This can be performed solo and/ or in a group setting and last 18 minutes. Two pieces of music must be contrasting.
The portfolio option should include a minimum of 2 contrasting pieces of music and last for 12 minutes.
Component 2 - Question Paper. You will demonstrate your conceptual knowledge and understanding of music by responding to music excerpts and an associated range of questions in sophisticated and challenging musical contexts.
The question paper will be externally assessed and marked by SQA.
Your work will be assessed by your teacher on an ongoing basis throughout the course. You must pass all units and the course assessment to gain the course qualification.
The course assessment is graded A-D. Your grade will depend on the total mark for all course assessments together.
What can I go on to next?
Further study, training or employment in:
Which jobs are related to this subject?