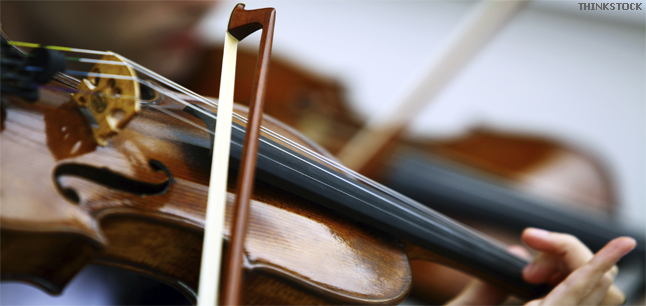 Why study Music?
Music gives you the opportunity to use your imagination and express yourself in a creative and practical way. It helps you to develop important skills such as: playing a musical instrument, communication, creative thinking, using your voice, composing and arranging music. You can develop and consolidate your skills in performing and creating music, and develop your creativity and confidence as you explore and develop your own creative ideas and music.
The skills you learn on this course not only makes a valuable contribution to your general education and personal development but also allows you to develop the skills and knowledge required to proceed to further study and/or follow a career in music.
Career Pathways
To see what career areas this subject could lead to and the routes to get there, download and view these career pathways:
What do I need to get in?
Entry is at the discretion of the school or college, but you would normally be expected to have achieved:
What will I study?
The course consists of three areas of study.
Performing skills
You will develop your performing skills on two selected instruments, or on one selected instrument and voice, through regular practice and self-reflection.
Composing skills
You will experiment with and use music concepts in creative ways, within a range of compositional methods, as you compose original music and self-reflect on your creative choices.
Understanding music
Through listening, you will will develop detailed knowledge and understanding of a range of complex music concepts, and music literacy. You will identify and distinguish the key features of specific music styles and recognise level-specific music concepts in excerpts of music, and music signs and symbols in notated music.
How will I be assessed?
The course assessment has three components totalling 100 marks:
Component 1: question paper – worth 40 marks
Component 2: performance (instrument 1) – worth 30 marks
Component 3: performance (instrument 2) – worth 30 marks.
For the performance component you will be required to perform either solo or in a group setting, and perform a minimum of 2 contrasting pieces on each of your 2 selected instruments, or instrument and voice.
The performance component will be assessed by an SQA visiting assessor.
The question paper will be set and externally marked by SQA.
The grade awarded is based on the total marks achieved across course assessment.
The course assessment is graded A-D.
Study Materials
What can I go on to next?
Successful completion of this course may lead to:
Further study, training or employment in:
Which jobs are related to this subject?
Where can my parents find out more?
Your school will give your parents an Options or Choices information booklet, which has detailed information on the curriculum and the individual subjects or courses you can study. It will also invite them along to a Parents' Information Evening.
They can also read the information leaflet(s):