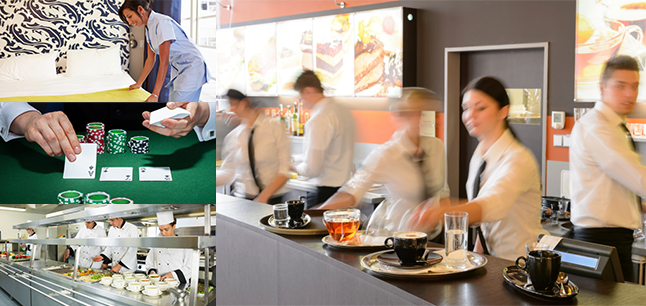 Do you enjoy working with people and using your communication skills? Are you happy to go the extra mile to provide customers with excellent service, including working longer hours? If so, then hospitality, leisure and tourism could be the industry for you.
This industry needs friendly, outgoing, helpful and well organised people.
The hospitality and tourism industry is very important to Scotland, employing around 211,000 people (9% of the Scottish workforce), across around 13,500 diverse businesses.
What areas can I work in?
This is a wide ranging area, with jobs available at all levels. In hospitality you would be providing food, drink or accommodation services to customers. Leisure involves providing support in recreational activities. Travel and tourism can be a combination of both leisure and hospitality and also overlap with the culture and heritage sector in terms of certain visitor attractions.
All areas of this industry also involve an element of retail and jobs such as airline cabin crew and cruise ship workers are covered in the career area 'Transport and Distribution'.
There may also be opportunities to work abroad.
What kind of companies can I work for?
You might work for:
hotels
restaurants, pubs or clubs
holiday parks or centres
cinemas
leisure complexes
travel agencies
tour operators
visitor attractions
tourist boards and information centres.
What's the job market like?
It is predicted that by 2024 the UK hospitality and tourism sector will need to recruit a further 1.3 million staff, 325,000 of those new jobs. Across the UK, the travel industry needs to recruit an additional 53,138 staff by the end of 2024. 13,285 of these will be new jobs.
Overseas and domestic visitors to Scotland increased to over 15.5 million in 2015, a 10% rise from 2014, indicating that the hospitality and tourism sector is healthy. There are also a number of large hotel and leisure developments planned for the next few years, with demand currently exceeding supply.
Facts and figures
Around 47% of tourism employees in Scotland work part time.
In April 2017, there were 2,559 Modern Apprentices in training across the hospitality/tourism sector.
55% of businesses in this sector have less than four employees.
A high percentage of tourism employment is in the largest cities, with 16% in Edinburgh and 13% in Glasgow. However, tourism employment is also important to rural areas, including Argyll and Bute, Perth and Kinross and the North Highlands.
Over half of all employees in tourism are in small businesses (those that employ less than 50 people).
Want to find out more?
You can find out more information on the Hospitality Guild and Careers that Move websites. These are both run by People 1st.
Sources
Skills Investment Plan for Scotland's Tourism Sector, Skills Development Scotland, 2nd Edition (September 2016) (www.skillsdevelopmentscotland.co.uk)
Skills and Workforce Profile - Hospitality and Tourism, People 1st (December 2016)
Skills and Workforce Profile - Travel, People 1st (December 2016)
Tourism Scotland 2020, Scottish Tourism Alliance (2017)
Competitiveness Sustainable Growth and Development, Scottish Tourism Alliance (2016-2020)
Was this article useful?
Please help us improve Planit by rating this article.