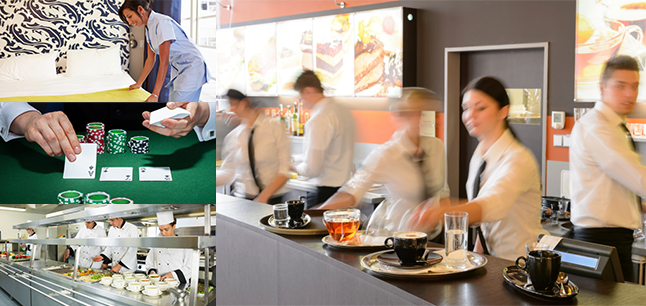 Do you enjoy working with people and using your communication skills? Are you happy to go the extra mile to provide customers with excellent service, including working longer hours? If so, then hospitality, leisure and tourism could be the industry for you.
This industry needs friendly, outgoing, helpful and well organised people.
The hospitality, leisure and travel and tourism industry is very important to Scotland, employing around 202,700 people over 16,400 establishments.
What areas can I work in?
This is a wide ranging area, with jobs available at all levels. In hospitality you would be providing food, drink or accommodation services to customers. Leisure involves providing support in recreational activities. Travel and tourism can be a combination of both leisure and hospitality and also overlap with the culture and heritage sector in terms of certain visitor attractions.
All areas of this industry also involve an element of retail.
There may also be opportunities to work abroad.
What kind of companies can I work for?
You might work for:
hotels
restaurants, pubs or clubs
holiday parks or centres
cinemas
leisure complexes
travel agencies
tour operators
visitor attractions
tourist boards and information centres.
What's the job market like?
It is predicted that by 2020 the UK hospitality and tourism sector will need to recruit a further 843,000 staff, with 143,000 being new jobs. The travel industry will increase its workforce to 94,125 by 2020.
According to People 1st, the Sector Skills Council for the hospitality, travel, tourism and leisure industries, the Scottish sector is growing and contributes £3.6 billion to the economy. Projections show that the workforce is expected to grow by 16,100 by 2020.
Due to growth and the need to replace existing staff, the rate of employers with vacancies in Scotland is higher, at 18%, than the national average for all other industries.
Facts and figures
Almost half of the Scottish workforce (48%) is employed on a part time basis.
The percentage of the workforce aged under 30 is 46%.
The majority of the workforce, at 58% is female, although at senior management level it is only 34%.
There are four industries that employ over 80% of the sectors workforce: restaurants (31%); hospitality services (26%); hotels (17%); and pubs, bars and clubs (17%).
Want to find out more?
People 1st is the Sector Skills Council for the Hospitality, Leisure, Travel and Tourism Industries and in addition to their main website they also provide information via Hospitality Guild and Careers that Move.
Sources
Hospitality, Tourism and Sport: Sector Skills Assessment 2012, UK Commission for Employment and Skills, October 2012
State of the Nation Report (2013): Scotland Executive Summary – People 1st
Policy Insight 2: Recruiting our future workforce, People 1st, 2013
2014 Insight on Travel, People 1st
Was this article useful?
Please help us improve Planit by rating this article.