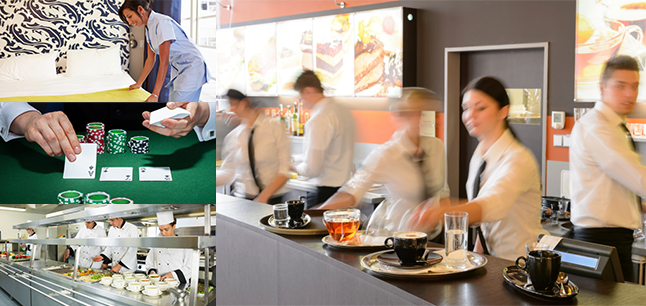 Do you enjoy working with people and using your communication skills? Are you happy to go the extra mile to provide customers with excellent service, including working longer hours? If so, then hospitality, leisure and tourism could be the industry for you. This industry needs friendly, outgoing, helpful and well organised people. 
In 2021, the accommodation and food services sector employed approximately 2.4 million people in the UK, while the travel and tourism sector generated (directly and indirectly) 4.11 million jobs in the UK.
A new strategy was launched in March 2020 called Scotland Outlook 2030 covering the Scottish Government's way forward for Scottish tourism.
What areas can I work in?
This is a wide ranging area, with jobs available at all levels. In hospitality you would be providing food, drink or accommodation services to customers. Leisure involves providing support in recreational activities. Travel and tourism can be a combination of both leisure and hospitality and also overlap with the culture and heritage sector in terms of certain visitor attractions.
All areas of this industry also involve an element of retail and jobs such as airline cabin crew and cruise ship workers are covered in the career area 'Transport and Distribution'.
There may also be opportunities to work abroad.
To see the routes to getting into each of these sectors, take a look at our Career Pathway.
What kind of companies can I work for?
You might work for:
hotels
restaurants, pubs or clubs
holiday parks or centres
cinemas
leisure complexes
travel agencies
tour operators
visitor attractions
tourist boards and information centres.
What's the job market like?
Hospitality is a major contributor to the Scottish economy. Pre-pandemic, the sector employed some 285,000 people and added £6 billion per year to the economy, making it the third largest employer in Scotland, accounting for around 10% of national employment.

The hospitality industry is currently facing staff shortages, with recent figures showing a record 174,000 vacancies (83% more than in March/May 2019). The highest shortages are in the roles of chefs, kitchen porters and assistant managers.

According to Skills Development Scotland, there are 183,000 people working in Scotland's tourism sector. The highest proportion (at 34,800 people) work in the Edinburgh, East and Midlothian area. Glasgow region comes second at 32,500.
Facts and figures
According to Scottish Development International, Scotland persistently outperforms the rest of the UK in attracting visitors to its tourist attractions.
The average salary in the tourism industry in Scotland is £20,500 a year.
The highest number of job postings in the tourism sector are for kitchen and catering assistants, chefs and waiters and waitresses.
The UK's beer and pub industry supports close to 940,000 jobs, and contributes £26.2 billion to the UK's economy each year.
Over the years through 2025-26, IBISWorld expect travel industry revenue to increase at a compound annual rate of 26.9% to reach £19 billion.
Want to find out more?
You can find out more information about different job roles in the industry from the People 1st Career Map.
Sources
Market Report: A Snapshot of your Market Sector - Hotel and Bed and Breakfast, Business Gateway (September 2021)
Scottish Development International website (July 2022)
Scottish Tourism Alliance website (July 2022)
Sectoral Skills Assessment, Tourism, February 2022 - Skills Development Scotland
Statistica website (July 2022)
UK Hospitality website (July 2022)
Video
Career Pathway
Was this article useful?
Please help us improve Planit by rating this article.