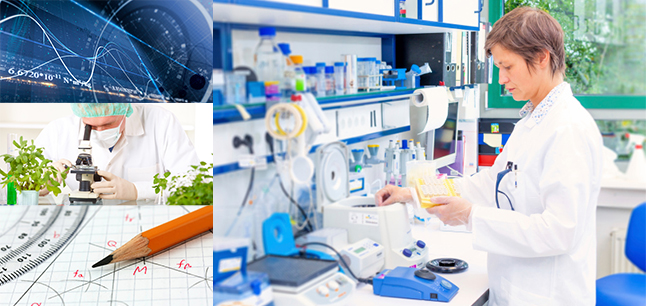 If you like the idea of developing new food products, testing anti-ageing serums, teaching, setting up businesses or studying the effects of pollution on marine life, then a career in science and mathematics may appeal to you.
You need to be logical, analytical, good at solving problems and accurate in your approach to work.
What areas can I work in?
The science and mathematics career area includes the wide range of careers in maths and the biological, chemical and physical sciences. It also includes materials science and food science and technology. 
 
If you think you may also be interested in other areas of technology you may want to look at the career areas for Engineering, Computing and ICT and Health and Medicine (including Medical Technology). 
What kind of companies can I work for?
Science and mathematics play a part in a wide range of industries, so you could find yourself working for retail companies to local government or research and development firms.
What's the job market like?
Job prospects in this career area are still looking promising, especially for highly qualified scientists and technicians, as the use of new technologies and products continues to grow.
The average salaries for full time science graduates in full time paid employment in the UK varied across the science subjects in 2015. Physics graduates still saw the highest average salaries at between £17,700 and £28,400 a year.
In 2015, the percentage of science and maths graduates in full time employment within 6 months of leaving university was: Biology 39%; Chemistry 43.5%; Physical and geographical sciences 48.9%; Physics 36.1%; and Mathematics 48.9%.
Of those, Chemistry graduates were more likely to find work in professional and managerial roles, while Maths graduates found work primarily in IT professional roles.
While science and mathematics graduates seem to have slightly lower employment rates across the overall subject spectrum, they are much more likely to take up further study or training, compared to other graduates.
Facts and figures
The chemical sciences industry is still one of Scotland's top export earners, with exports reaching £4.7 billion. It directly employs over 110,000 people in over 200 companies. In research and development (R&D) it is ranked the top third in the world, accounting for 19% of Scottish business research and development.
There are over 150 pharmaceutical services and supply companies in Scotland, employing over 9,000 people.
Biotechnology is used in the discovery, development and testing of new medicines, and in a wide range of industrial products including biofuels, tyres and plastics. Around 50 companies in Scotland are using industrial biotechnology processes.
Scotland has one of the largest life sciences clusters in Europe, and the industry continues to grow. It employs over 30,000 people in over 600 organisations.
A Modern Apprenticeship in Life Sciences has been developed to attract more young people into the sector.
Scotland's Chemical sector is targeted to increase exports by 50% to £4.5 billion by 2020.
Want to find out more?
If you are interested in science careers you might want to visit some of the following websites for information and inspiration: 
Sources
What do graduates do? HECSU/AGCAS in association with UCAS (November 2016)
Scottish Key Facts February 2017, Scottish Enterprise
Scottish Development International website (Sectors: Chemical Sciences, Life Sciences)
Building on Success: Scotland's Industrial Biotechnology Plan 2015-2025, Scottish Enterprise website (October 2015).
Was this article useful?
Please help us improve Planit by rating this article.