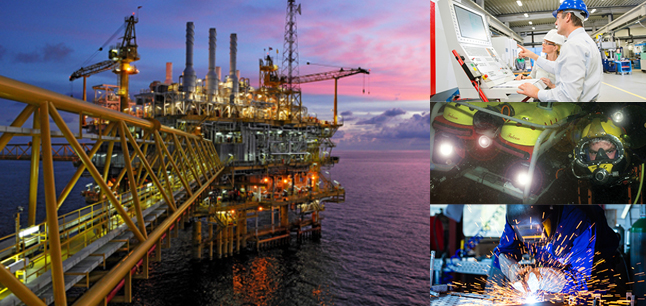 Do you want to work in an industry that makes a very real impact on the world around us? Would you like to design aircraft, ships or cars, or find new ways of generating renewable energy to make sure that thousands of homes have heating and lighting?
Engineers use science and technology to come up with the answers to practical problems. They design, develop, build, fix and put together all types of things.
If you have an enquiring mind, enjoy problem solving and making things work, and like using technology to design new products, structures or systems, then engineering could be the career for you.
In 2019, 126,000 people were employed in engineering in Scotland, accounting for 4.8% of Scotland's total employment. In 2020, there were 15,585 engineering companies in Scotland (8.7% of the Scottish total), compared to 15,670 in the previous year.
What areas can I work in?
There are all sorts of engineers working in hundreds of different industries. Areas include: aeronautical, chemical and material, electrical and electronic, mechanical and manufacturing, naval and marine, offshore and energy, and general engineering.
Related industries include science, information technology and construction, for jobs such as chemical engineer, telecommunications engineer and civil engineer.
To see the routes to getting into each of these sectors, take a look at our Career Pathway.
What kind of companies can I work for?
Possible employers include:
energy and utility companies
aircraft and aerospace engineering firms
pharmaceutical, plastics, paper, textiles manufacturers
food and drink manufacturers
oil and gas companies
general manufacturing firms
telecommunications and IT companies
defence
marine
Civil Service or National Health Service (NHS)
transport.
What's the job market like?
The engineering industry has not only suffered from the impact of the pandemic but also from the effects of Brexit (3 in 4 companies reported that Brexit has had a direct effect on their business due to export and import issues) and therefore it is difficult to describe the state of the job market in its recent and present state of fluctuation.
Despite the aforementioned obstacles, there are signs of encouragement that staffing levels continue to slow its rate of decline in this sector. It is reported employee numbers are positive for large companies in Scotland, however small and medium companies are reporting decreases. Fabricators are the only sector faring well with an increase in employee numbers. Metal manufacturing and machine shops are anticipating decreases in employee numbers whilst all other sectors are forecasting increases.
As with many industries, there are still skills shortages reported. The top ranking jobs that are still in demand are: production managers and directors in the areas of manufacturing, construction, and mining and energy; quality control and planning engineers; quality assurance professionals; civil engineers; and mechanical, electrical, and electronics engineers, amongst others.
Regardless of major events affecting the industry, it is recognised that women are still severely underrepresented in engineering. According to Engineering UK, just 12% of those working in engineering are female, compared with 47% of the overall UK workforce.
Facts and figures
Full time UK domiciled graduates with an undergraduate degree in engineering and technology achieve a higher starting salary than graduates in most other subjects.
From the academic year 2017/18, 71.4% of electrical and engineering graduates were in full time employment 15 months after graduating. 15% of those worked as electrical engineers and 12% worked as electronics engineers.
From that same period, 71.9% of mechanical engineering graduates were in full time employment 15 months after graduating. 21.5% of those worked as mechanical engineers and 21% worked as design and development engineers.
Civil engineering graduates saw the most success at getting into their target career in this period: 73.2% of civil engineering graduates were in full time employment 15 months after graduating, with 72% of those working as civil engineers.
Want to find out more?
If you are interested in working in the renewable energy sector, Renewable UK is a good source of careers information.
And Tomorrow's Engineers is another excellent source of information on careers in engineering.
Sources
Analysis of the demand for engineers forecast based on Working Futures forecast 2014-2024, Engineering UK (May 2021)
Engineering UK Report (2020), Engineering UK
Quarterly Review March 2021, Scottish Engineering
Scottish Engineering Facts (February 2021), Scottish Enterprise
What do graduates do? Prospects in association with AGCAS (2020/21)
Video
Was this article useful?
Please help us improve Planit by rating this article.