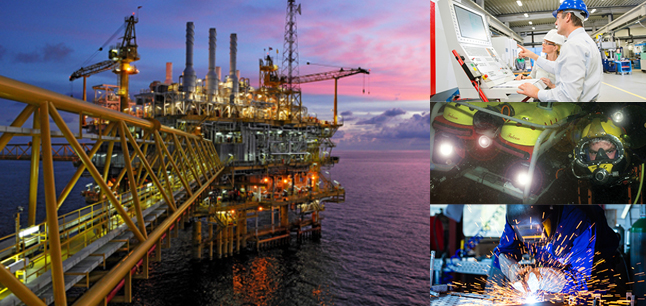 Do you want to work in an industry that makes a very real impact on the world around us? Would you like to design aircraft, ships or cars, or find new ways of generating renewable energy to make sure that thousands of homes have heating and lighting?
Engineers use science and technology to come up with the answers to practical problems. They design, develop, build, fix and put all types of things together.
If you have an enquiring mind, enjoy problem solving and making things work, and like using technology to design new products, structures or systems, then engineering could be the career for you.
In 2022, there were 139,300 people working in the engineering sector in Scotland and 100,600 people working in the energy sector.
What areas can I work in?
There are all sorts of engineers working in hundreds of different industries. Areas include: aeronautical, chemical and material, electrical and electronic, mechanical and manufacturing, naval and marine, offshore and energy, and general engineering.
Related industries include science, information technology and construction, for jobs such as chemical engineer, telecommunications engineer and civil engineer.
To see the routes to getting into each of these sectors, take a look at our Career Pathway.
What kind of companies can I work for?
Possible employers include:
energy and utility companies
aircraft and aerospace engineering firms
pharmaceutical, plastics, paper, textiles manufacturers
food and drink manufacturers
oil and gas companies
general manufacturing firms
telecommunications and IT companies
defence
marine
Civil Service or National Health Service (NHS)
transport.
What's the job market like?
In their first quarterly review of 2023, the industry organisation Scottish Engineering confirmed that there had been order and output growth for eight consecutive quarters, indicating a positive outlook for the engineering sector. 
The workforce is predicted to grow by 1.8% (2,500 people) between 2022 and 2025.
The renewables industry is expected to continue to expand, with net-zero targets and implementing energy transition. It is estimated that the Offshore Energy sector will employ 130,000 people by 2035. Forecasts also suggest that the UK Offshore Energy sector could support up to 350,000 jobs by 2050, an increase of around 196,400 on 2022.
There are also indications that a strong hydrogen sector in Scotland could support up to 300,000 new or secured jobs across all skill levels by 2045.
According to UKTN (UK Tech News), the UK has one of the worst rates of attracting and retaining women, with just 11% of the engineering workforce being female. At university level, just over 15% of engineering students are female. The industry recognises that this needs to change. 
The UKTN website states that the 10 best engineering jobs to keep an eye on in the future are: Green energy engineer, Civil engineer, Environmental engineer, Electrical engineer, Marine engineer, Biomedical engineer, Chemical engineer, Mechatronic engineer, Defence engineer, and, Aerospace engineer. 
Facts and figures
From the academic year 2019/20, 68.5% electrical and electronic engineers were in full time employment 15 months after graduating, with 47.9% pursuing careers within engineering, and 24.9% going into IT.
From that same period, 66.1% of mechanical engineering graduates were in full time employment 15 months after graduating. Of those, 55.5% were working as engineering and building professionals.
Top employing regions for the energy sector in 2022: Aberdeen City and Shire region (35,800); Lanarkshire (6,400); and, Edinburgh, East and Midlothian (6,000).
Top employing regions for the engineering sector in 2022: Aberdeen City and Shire (34,100); Glasgow College Region (22,600); and, Edinburgh, East and Midlothian (17,400).
Want to find out more?
If you are interested in working in the renewable energy sector, Renewable UK is a good source of careers information.
And Tomorrow's Engineers is another excellent source of information on careers in engineering.
Sources
Video
Career Pathway
Was this article useful?
Please help us improve Planit by rating this article.