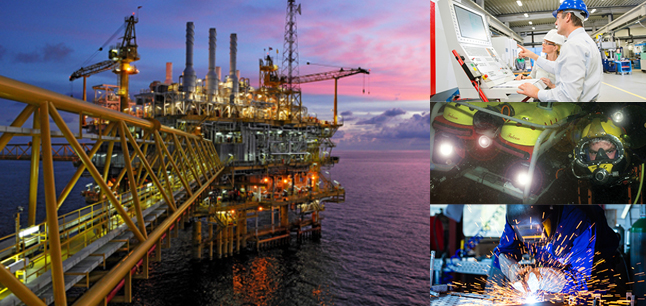 Do you want to work in an industry that makes a very real impact on the world around us? Would you like to design aircraft, ships or cars, or find new ways of generating renewable energy to make sure that thousands of homes have heating and lighting? If you have an enquiring mind, enjoy problem solving and making things work, and like using technology to design new products, structures or systems, then engineering could be the career for you.
Engineers use science and technology to come up with the answers to practical problems. They design, develop, build, fix and put together all types of things.
In 2021, there were 140,900 people employed in the Scottish engineering sector.
What areas can I work in?
There are all sorts of engineers working in hundreds of different industries. Areas include: aeronautical, chemical and material, electrical and electronic, mechanical and manufacturing, naval and marine, offshore and energy, and general engineering.
Related industries include science, information technology and construction, for jobs such as chemical engineer, telecommunications engineer and civil engineer.
To see the routes to getting into each of these sectors, take a look at our Career Pathway.
What kind of companies can I work for?
Possible employers include:
energy and utility companies
aircraft and aerospace engineering firms
pharmaceutical, plastics, paper, textiles manufacturers
food and drink manufacturers
oil and gas companies
general manufacturing firms
telecommunications and IT companies
defence
marine
Civil Service or National Health Service (NHS)
transport.
What's the job market like?
Although the pandemic led to a fall in activity in the engineering sector, it has been less affected than the Scottish economy as a whole.

In their first review of 2022, the industry organisation Scottish Engineering said that the positive demand it had cautiously tracked in 2021 appeared to be strengthening in many cases. Their final quarterly review of 2021 had pointed to order intake, output volume and exports at their most positive levels since 2018. 

Forecasts for the mid-term (up to 2024) indicate there could be some job growth and opportunities created due to workers leaving the labour market through retirement and other reasons. The workforce is expected to grow by 2.4% or 3,400 people, up to 2024. 
The renewables industry is expected to continue to expand over the next five years. 50% of Scotland's total energy demand (electricity, heat and transport) is to be supplied by renewable sources by 2030. 

According to UKTN (UK Tech News), the UK has one of the worst rates of attracting and retaining women, with just 11% of the engineering workforce being female. At university level, just over 15% of engineering students are female. The industry recognises that this needs to change. 

The UKTN website states that the 10 best engineering jobs to keep an eye on in the future are: Green energy engineer, Civil engineer, Environmental engineer, Electrical engineer, Marine engineer, Biomedical engineer, Chemical engineer, Mechatronic engineer, Defence engineer, and, Aerospace engineer. 
Facts and figures
From the academic year 2018/19, 68.5% electrical and electronic engineers were in full time employment 15 months after graduating, with 46.1% pursuing careers within engineering, and 25% going into IT.
From that same period, 66.1% of mechanical engineering graduates were in full time employment 15 months after graduating. Of those, 60% were working as engineering and building professionals.
Top employing regions in 2021: Aberdeen City and Shire, 37,300 people; Glasgow Region, 23,300 people; Edinburgh, East and Midlothian, 16,600 people; Lanarkshire, 13,100 people; Fife, 10,300 people.
Around 60% of UK onshore wind electricity generation capacity is located in Scotland. 
Want to find out more?
If you are interested in working in the renewable energy sector, Renewable UK is a good source of careers information.
And Tomorrow's Engineers is another excellent source of information on careers in engineering.
Sources
Sectoral Skills Assessment: Engineering, Skills Development Scotland (February 2022)
Scottish engineering sector in rude health but cost pressures stack up, Scott Reid, The Scotsman (25 February 2022)
Key sectors - Energy industries, Scottish Development International (July 2022)
Market Report: Renewables, Business Gateway (May 2022)
Market Report: Onshore and offshore wind power, Business Gateway (February 2022)
The ten best engineering jobs for the future, UKTN (27 June 2022)
What do graduates do? Prospects in association with AGCAS (2021/22)
Video
Career Pathway
Was this article useful?
Please help us improve Planit by rating this article.