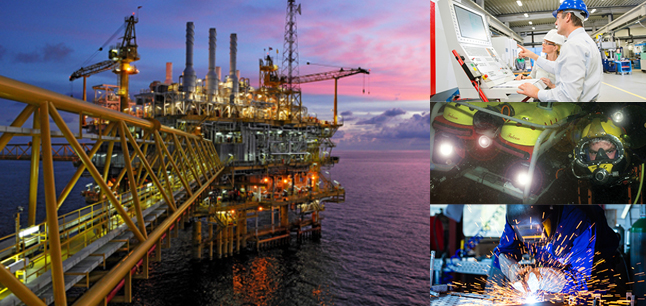 Do you want to work in an industry that makes a very real impact on the world around us? Would you like to design aircraft, ships or cars, or find new ways of generating renewable energy to make sure that thousands of homes have heating and lighting?
Engineers use science and technology to come up with the answers to practical problems. They design, develop, build, fix and put together all types of things.
If you have an enquiring mind, enjoy problem solving and making things work, and like using technology to design new products, structures or systems, then engineering could be the career for you.
There are over 650,000 engineering enterprises in the UK, employing almost 5.7 million people, just over 19% of UK employment. In Scotland there are over 45,000 engineering enterprises, employing 423,000 people.
What areas can I work in?
There are all sorts of engineers working in hundreds of different industries. Areas include: aeronautical, chemical and material, electrical and electronic, mechanical and manufacturing, naval and marine, offshore and energy, and general engineering.
Related industries include science, information technology and construction, for jobs such as chemical engineer, telecommunications engineer and civil engineer.
What kind of companies can I work for?
Possible employers include:
energy and utility companies
aircraft and aerospace engineering firms
pharmaceutical, plastics, paper, textiles manufacturers
food and drink manufacturers
oil and gas companies
general manufacturing firms
telecommunications and IT companies
defence
marine
Civil Service or National Health Service (NHS)
transport.
What's the job market like?
Prospects are generally very good and there are a range of job levels available from operative to technician, up to chartered engineer. There is the chance to travel and work abroad, especially for professional engineers.
Women are still under-represented in engineering at all levels, with only 1 in 8 of the UK engineering workforce being female. As such, lots of organisations offer support and encouragement to female applicants.
Over half of renewables work is engineering based and there is expected to be an increase in jobs in this sector in the coming years.
According to the State of Engineering report from Engineering UK, there is an annual shortfall of at least 20,000 engineering graduates and the forecast is that 265,000 skilled entrants are required to meet industry demand up to 2024.
High percentages of engineering discipline graduates from 2015 were in work six months after graduating: civil engineering at 76.7%, electrical and electronic engineering at 73.9% and mechanical engineering at 72.6%. The majority went into engineering and building professional roles.
Facts and figures
Scotland's shipbuilding and repair sector represents 40% of the UK's.
Around 40% of jobs in the oil and gas industry are in Scotland.
There are over 58,000 jobs in the low carbon and renewable energy economy in Scotland.
The UK has the second largest aerospace industry in the world.
Starting salaries for engineering graduates can be between £22,000 and £27,000 for civil engineering, £21,800 to £28,100 for mechanical engineering and £21,400 to £28,100 for electronic engineering.
Want to find out more?
If you are interested in working in the renewable energy sector, Renewable UK is a good source of careers information.
And Tomorrow's Engineers is another excellent source of information on careers in engineering.
Sources
Was this article useful?
Please help us improve Planit by rating this article.