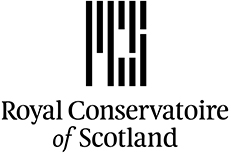 Venues
Renfrew Street Campus
Content
The Composition pathway is designed to develop artistically aware, imaginative and confident creators, who are equipped to succeed as musicians in a rapidly-changing cultural landscape.

We are looking for active and engaged individuals, who are interested in developing professional attitudes towards compositional practices, willing to collaborate and develop communication skills for use with other composers, performers and artists from a broad range of disciplines, demonstrating an independent willingness to prepare for lessons and classes, and a clear interest in widening musical experiences as they progress through their studies with us here at the RCS.

When you study Composition, you will be working with our diverse and talented performing community in some of the best facilities in Europe. You'll benefit from our professional partnerships with leading ensembles and orchestras, and there will be opportunities to hear your work performed. The performance of new work is of paramount importance to us, and we have a significant reputation for contemporary music. PLUG, our critically acclaimed annual festival, has become a renowned platform for new work, premiering hundreds of new works.
Entry Requirements
2024 entry requirements:
3 Highers preferably including English and Music. Applicants are normally of a Grade 8 with Distinction standard of the ABRSM in their principal study.

Applicants should apply by the closing date of 3 October.
UCAS Code
Apply via UCAS Conservatoires (302F)
Website