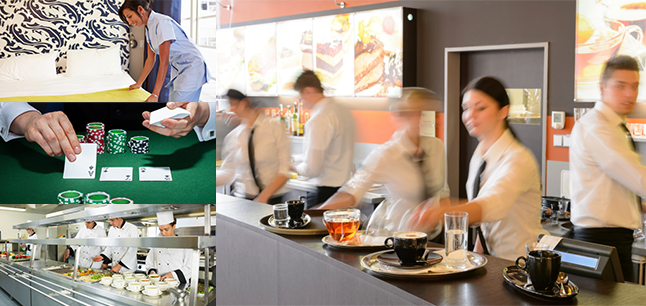 Do you enjoy working with people and using your communication skills? Are you happy to go the extra mile to provide customers with excellent service, including working longer hours? If so, then hospitality, leisure and tourism could be the industry for you. 
This industry needs friendly, outgoing, helpful and well organised people. 
The accommodation and food services sector employs just over 155,000 people, according to the Labour Force Survey in 2020.
A new strategy was launched in March 2020 called Scotland Outlook 2030 covering the Scottish Government's way forward for Scottish tourism.
What areas can I work in?
This is a wide ranging area, with jobs available at all levels. In hospitality you would be providing food, drink or accommodation services to customers. Leisure involves providing support in recreational activities. Travel and tourism can be a combination of both leisure and hospitality and also overlap with the culture and heritage sector in terms of certain visitor attractions.
All areas of this industry also involve an element of retail and jobs such as airline cabin crew and cruise ship workers are covered in the career area 'Transport and Distribution'.
There may also be opportunities to work abroad.
To see the routes to getting into each of these sectors, take a look at our Career Pathway.
What kind of companies can I work for?
You might work for:
hotels
restaurants, pubs or clubs
holiday parks or centres
cinemas
leisure complexes
travel agencies
tour operators
visitor attractions
tourist boards and information centres.
What's the job market like?
The hospitality, leisure and tourism industry has suffered during the COVID-19 pandemic, but there is hope that as the economy opens up again that these sectors will improve in terms of turnover and employment.
Many groups, such as the Scottish Tourism Emergency Response Group (STERG) and Scottish Tourism Recovery Taskforce (STRT), have been set up with the aim of working with the Scottish Government towards recovery for the industry.
One government initiative running to help young people into a hospitality career is Kickstart, in association with UKHospitality, Springboard, The Scottish Tourism Alliance and The Youth Group. The Government is putting £2bn into the programme which will fund six months of 25 hours a week work at national minimum wage for 16-24 year olds.
Glasgow is hosting the global climate change conference, COP26, in November 2021 and is due to host 30,000 world leaders and international delegates. This is the biggest international summit the UK has ever seen and will require additional workforce.
Facts and figures
There is an initiative called the Food Tourism Scotland Action Plan which aims to boost food and drink tourism, providing up to £1 billion to the economy by 2030.
The total visitor spend in Scotland from international and UK tourists in 2019 was £11.5 billion.
In a typical year, 56% of consumers stay in a hotel and 13% of consumers stay in a holiday rental property, although due to COVID-19, 53% of holidaymakers would be more likely to consider self-catering accommodation.
Over the years through 2024-25, IBISWorld expect travel industry revenue to increase at a compound annual rate of 5.8% to reach £2.5 billion.
Want to find out more?
You can find out more information about different job roles in the industry from the People 1st Career Map and read more about the HospitalityUnite/Kickstart programme.
Sources
Video
Was this article useful?
Please help us improve Planit by rating this article.