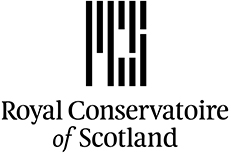 Venues
Renfrew Street Campus
Content
BA Filmmaking is a drama-based, practical filmmaking programme aimed at those who are passionate about storytelling in cinema or television. The programme is designed so that you have the opportunity to take a variety of lead roles in the film crew – director, producer, sound recorder, script writer and post-production (editing and sound) – allowing you to grow your understanding of each part of the filmmaking process and find your strengths.

Learning within our distinctive conservatoire environment allows you to work directly with performers, musicians and production artists. This interdisciplinary environment is the perfect place to create new work and expand your skillset.
Entry Requirements
2024 entry requirements:
3 Highers at C or above. All applicants who apply by the closing date (31 January) are invited to interview and to submit a portfolio.
UCAS Code
Apply via UCAS Conservatoires (200F)
Website