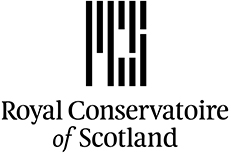 Venues
Renfrew Street Campus
Content
The Bachelor of Music (BMus) undergraduate degree programme is our highly specialised music degree for performers and composers. We value hard-working, talented and curious students, and, in exchange, we provide an inspiring and supportive environment in which to excel.

The four-year programme is designed for you to become an expert in your chosen field through a wide range of practical experiences and creative challenges, enabling you to discover and fulfil your individual potential.

There are several pathways:
Brass, Composition, Guitar and Harp, Jazz, Keyboard, Strings, Timpani and Percussion, Traditional Music, Traditional Music: Piping; Vocal Studies; and Woodwind.

All pathways are designed to inspire and support the next generation of professional musicians – this could include you. We believe you are a professional in training and will offer proto-professional contexts throughout your programme of study to enable you to develop your learning to articulate with your chosen graduate destination. You will work with outstanding staff and visiting professionals to develop your individual performance or composition skills. We provide you with opportunities to perform or hear your own music performed publicly, to undertake work placements in all areas of music, and to develop the contextual and professional skills to become a musician equipped for the contemporary cultural landscape.
Entry Requirements
2023 entry requirements:
3 Highers preferably including English and Music. For singers, the study of two foreign languages (German, French or Italian) is recommended. Applicants are normally of a Grade 8 with Distinction standard of the ABRSM in their principal study.

Applicants should apply by the closing date of 3 October.
UCAS Code
Apply via UCAS Conservatoires. Please refer to list below
Combination Courses
Brass
Composition
Guitar and Harp
Jazz
Keyboard
Strings (Joint Principal study)
Timpani and Percurssion
Traditional Music
Traditional Music: Piping
Vocal Studies
Woodwind
300F
302F
300F
303F
300F
300F/301F
300F
250F
251F
251F
300F
Website