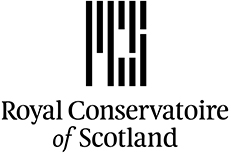 Venues
Renfrew Street Campus
Content
In addition to singing lessons, coaching and performance opportunities, a range of core skills in acting, dance, movement, stage combat, languages, Alexander Technique, French, German and Italian repertoire, audition technique, French phonetics are taught. Singers also continue to receive Concert Classes to ensure that their song and oratorio repertoire continues to develop as well as their stage skills. These are assessed on an ongoing basis as part of 'Supporting Studies', while the principal assessments are, of course, focussed on the performances themselves.

Opera scenes allow students to experience different repertoire and style, and to discover their own strengths and weaknesses. The annual Opera Project explores both contemporary/20 th century and baroque repertoire, while the annual full-scale in house production (in the Conservatoire's own Athenaeum Theatre) and the regular collaboration with Scottish Opera focus on more mainstream repertoire. Professional agents and opera companies are frequent visitors.

You can exit after gaining 120 credits with a PgDip.
Entry Requirements
Normally a good Honours (at least 2.2) degree, or its overseas equivalent, in a subject area relevant to the demands of the programme
Qualification
Postgraduate Master's
UCAS Code
Apply via UCAS Conservatoires (851F)
Course Length
1 - 2 years
Website