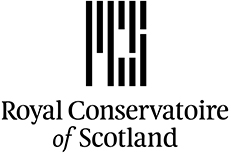 Venues
Renfrew Street Campus
Content
The MMus/MA programme is made up of four modules. The Principal Study will enable you to develop technical and expressive mastery as a conductor. Ensuring you meet the demands of a conducting career, you'll develop a firm but flexible and responsive conducting style that demonstrates musical individuality and technical assurance. Over the course of your studies you will move towards greater independence and self-reliance and will develop an ability to identify problems and solve them through preparation and rehearsal.

Supporting Studies will provide a range of experiences and classes to support your Principal Study and develop a mature musical personality. This will include one-to-one coaching, performance classes, study of orchestral scores and instruments, sectional coaching, large scale production rehearsals, and full orchestral rehearsals. You'll also observe and work with conductors in Conservatoire and professional rehearsals and performances.

The programme is completed by the Approaches to Critical Artistry module, in which you carry out a practice-based research project, and up to two Elective modules in each year of study.

The structure of the one-year MA programme is similar, including Principal Study, Supporting Studies, Approaches to Critical Artistry and the option to take one or two Electives. This programme is completed by the Negotiated Study module, offering the opportunity to pursue an significant period of independent study in an area of your own choosing.

You can exit after gaining 120 credits with a PgDip.
Entry Requirements
Normally a good Honours (at least 2.2) degree, or its overseas equivalent, in a subject area relevant to the demands of the programme
Qualification
Postgraduate Master's
UCAS Code
Apply via UCAS Conservatoires (892F - MMus, 801F - MA)
Website