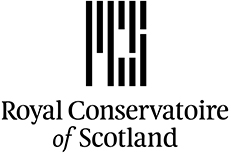 Venues
Renfrew Street Campus
Content
The Bachelor of Music with Honours (BMus) undergraduate degree has been designed to be both an inspiring and flexible programme, tailored to meet your individual musical needs.

There are six pathways through the degree for you to choose from – each created for you to specialise in your chosen field through a range of practical experiences and creative challenges.

There are 6 pathways:
Performance (brass, guitar and harp, keyboard, strings, timpani and percussion, vocal studies and woodwind); Composition; Jazz; Joint Principal Study; Traditional Music; and Traditional Music and Piping.

(Traditional Music and Traditional Music and Piping are listed separately).
Entry Requirements
2022 entry requirements:
3 Highers preferably including English and Music. For singers, the study of two foreign languages (German, French or Italian) is recommended. Applicants are normally of a Grade 8 with Distinction standard of the ABRSM in their principal study.

Applicants who apply by the closing date are invited to audition.
UCAS Code
Apply via UCAS Conservatoires. Please refer to list below
Combination Courses
Bachelor of Music (Hons) Performance
Bachelor of Music (Hons) Composition
Bachelor of Music (Hons) Jazz
Bachelor of Music (Hons) Joint Principal Study
300F
302F
303F
301F
Website