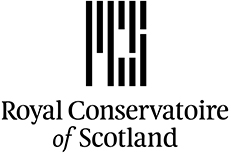 Venues
Renfrew Street Campus
Content
This programme is for Gaelic speaking Teaching Artists working within informal, community, pre-school, and/or any other educational context, this programme provides the opportunity to gain a Masters level qualification in learning and teaching that is relevant and appropriate to your professional context. This programme provides opportunities to explore and develop the specialist knowledge and skills required to teach a performing arts discipline successfully within your own unique Gaelic Arts context.

With bespoke support from a range of educational and subject specialists, you will have the opportunity to build an evidence base to demonstrate your engagement with learning and teaching theories, practices and policies in the design, delivery and evaluation of learning experiences in your Gaelic Arts professional context.

The programme is delivered part-time over a three-year period, through a combination of online workshops, weekend seminars, independent learning, and work-based learning within your own professional context. From the outset, you will engage in a multidisciplinary arts education community of practice with students across all of the PG Learning and Teaching programmes. Within your specific pathway, you will join an Action Learning Set to share in peer support. A personal supervisor will work with you throughout your studies and you will engage with a subject mentor and professional mentor as you progress through the programme.
Entry Requirements
A good honours (at least 2:2) degree, or international equivalent, in a subject area relevant to the demands of the programme. Competency in Gaelic. Interview.
Qualification
Postgraduate Master's
Study Method
Part time (day)
UCAS Code
Apply via UCAS Conservatoires (0W0F)
Website