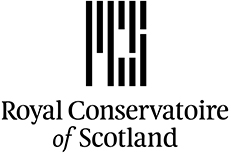 Venues
Renfrew Street Campus
Content
The Timpani and Percussion department offers an extensive curriculum to allow students to experience and study as much related material as possible.

A carefully balanced curriculum of one-to-one weekly lessons and repertoire classes, playing in various ensembles, interspersed with frequent visits from our distinguished roster of international clinicians, produces a structure and foundation for student learning and engagement. Additionally, students gain lots of practical performing experience through a variety of opportunities: symphonic, chamber, opera and wind and brass ensembles.

You will have 90-minute one-to-one lessons per teaching week in each year on your principal study with our highly acclaimed staff, supplemented by one three hour orchestral repertoire class per week. To further equip you for the profession, we offer specialist tuition from leading performers and educators featuring Drum Kit, Latin American and ethnic percussion and Marimba.
Entry Requirements
2024 entry requirements:
3 Highers preferably including English and Music. Applicants are normally of a Grade 8 with Distinction standard of the ABRSM in their principal study.

Applicants should apply by the closing date of 3 October.
UCAS Code
Apply via UCAS Conservatoires (300F)
Website