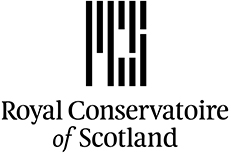 Venues
Renfrew Street Campus
Content
This MA Creative Producing (MACP) will enhance your academic portfolio, offer a contemporary and exciting MA product within a Conservatoire context and enable students on the programme to contextualize their learning throughout their studies. We hope to attract visionary and ambitious applicants to the programme who understand the transformational role the producer can inhabit in a range of contemporary contexts such as engendering a protected environment for new work to be gestated; supporting work through time, talent, and fostering the emergence of ideas.

Creative Producers are so titled to remind those who may be unsure that this is a creative role and part of the creative process of collaboration towards success. The course will seek to offer a perspective for all students of the whole "producing spectrum" from managing someone else's project, through the roles of General Management and in-house Executive Producing, through to inventing and bringing their own very personal vision to life. Each student will come with very different pre-considered paths, the course will seek to open their eyes to the multiple paths of producing and encourage them to go down many in what will be, most likely, a portfolio career, at least in the early years.

Producers are "employers" and creators of opportunities. It is the ambition for the programme that new creative projects, new companies, and new employment possibilities will be realised on many scales, across many nations, and with true collaboration between the graduates and the wider creative and cultural sector.
Entry Requirements
Normally a good undergraduate degree, or its overseas equivalent, in a subject area relevant to the demands of the programme. Entry is subject to audition.

Applications only for 2021 entry.
Qualification
Postgraduate Master's
UCAS Code
Apply via UCAS Conservatoires (TBC)
Website