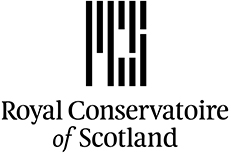 Venues
Renfrew Street Campus
Content
This degree is the only one of its kind taught within a conservatoire environment where you will benefit from learning alongside students studying programmes across dance, drama, music, production and screen. Musical theatre choreography is an ever-evolving creative role within theatre and film. Industry practitioners have backgrounds in jazz, contemporary, ballet, urban, physical theatre and other movement-based techniques.

You will engage with an intensive programme of training designed to develop and refine your skills and study a broad stylistic range to develop versatility and skill as a choreographer. You will work alongside MA students in Performance and Musical Direction and collaborate with staff and industry professionals on productions across the Conservatoire. This choreography degree offers the rare opportunity to work in a proto professional environment as part of a creative team to synthesise all technical, creative and professional skills in the realisation of a full Musical Theatre production at the Edinburgh Festival Fringe.
Entry Requirements
Normally a good undergraduate degree, or its overseas equivalent, in a subject area relevant to the demands of the programme. Entry subject to audition.
Qualification
Postgraduate Master's
UCAS Code
Apply via UCAS Conservatoires (TBC)
Website