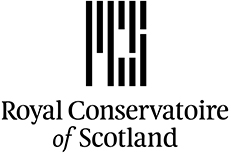 Venues
Renfrew Street Campus
Content
The vocal department is ambitious on your behalf and seeks to find ways for you to discover and fulfil your potential as a singer and independent, distinctive artist. The department numbers around 100 first study singers on B Mus and M Mus courses, with a further 20 singers taking the advanced M Mus Opera route. Our team of tutors and coaches aim to help you find and healthily release your own true unique voice, establishing a technique which can serve you reliably, with a sense of freedom. The department, led by Stephen Robertson (Head of Vocal Studies) and Timothy Dean (Head of Opera) has an excellent and very committed team of tutors, many of whom have worked and continue to work at the highest international levels and who are able to offer a range of specialisms.

You can exit after gaining 120 credits with a PgDip.
Entry Requirements
Normally a good Honours (at least 2.2) degree, or its overseas equivalent, in a subject area relevant to the demands of the programme.
Qualification
Postgraduate Master's
UCAS Code
Apply via UCAS Conservatoire (MMus - 890F, MA - 801F)
Course Length
1 - 2 years
Website