What if you don't get the job?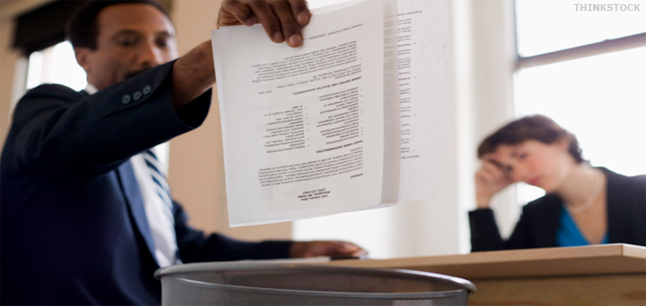 Rejection of any sort really hurts. Unfortunately, when you're applying for jobs, sitting entrance tests and going for interviews, it comes with the territory. You could be one of a hundred applicants for one single vacancy so competition is tough. This means that it is important to do your best and to keep trying.
Although it is hard, try not to let unsuccessful applications affect your confidence.
Don't take it too personally. Competition for jobs is tough. Often, all the employer knows of you is how you came across at one interview or on one application form.
Don't dwell on it; it'll only make you feel worse.
Remember it's a competition and you don't know how your qualifications and experience compares to those of other candidates.
Here are a few tips to help you to keep your self-esteem intact and prepare for success in your next application.
Coping with rejection
It's natural to feel hurt and even angry. It's easy to feel that it's all your fault and that you ought to have done better, and it is also easy to blame everyone but yourself.
Share your feelings with family and friends and give them the chance to boost your confidence by telling you how great you really are. Don't beat yourself up about anything you did wrong.
Remember, there's more to life than job applications. Take time to remind yourself of all the positive things going on in your life and all the great things you have to offer.
Reality check
Be as honest as you can with yourself. We all have our off days.
Did you give it your best shot, or could you have prepared better?
Did you do yourself justice at the interview, or were there questions that took you by surprise?
If you really feel you made the most of your application form or did a good interview, just chalk it up to experience and prepare for your next opportunity.
Above all, think ahead and don't let it affect your confidence.
Your next move
If this isn't your first rejection, maybe this is a good time to get some feedback on your CV, or brush up your interview skills, so go and see your careers adviser.
Consider getting some experience (paid or voluntary). It could help you to feel good about yourself because you're doing something constructive and learning new skills. It could also help you move closer to your target career.
Learn from the experience
Many employers are willing to give you feedback on your CV, application form or interview performance. If you decide to contact the interviewer after an unsuccessful job application, do remember the following points:
be calm and objective
thank him or her for letting you know the outcome of your application
ask if they'd mind giving you a bit of feedback to help you to make a better impression in the future
listen to what they have to say.
Constructive criticism will help you with your next job application.
Was this article useful?
Please help us improve Planit by rating this article.